Make Music Matter!
A COLLABORATION AROUND MUSIC AS FORM OF EXPRESSION
In Make Music Matter! academic researchers, schools, music and tech industry representatives and the cultural sector reach out to and collaborative with the social community to develop and disseminate knowledge about music and to contribute to social development and well-being.
Make Music Matter! aims to democratise music as a form of expression and a means for communication by giving young people access to knowledge and tools that enable them to express their thoughts, feelings and ideas musically.
The initiative has its roots in school-based projects, and most children, young people and teachers still meet Make Music Matter! via the Swedish school system. But the network also organises event-based activities for young people and offers teachers professional development through networking events and courses. In addition, Make Music Matter! publishes its study materials through its own website https://makemusicmatter.se/  as well as through other digital channels. Initiatives aimed at young people in socially deprived areas plays an important part in the project.
A NATIONAL NETWORK
Make Music Matter! is run by Linnaeus University (https://lnu.se/) together with Signatur  Foundation Sweden and Tim Bergling Foundation (https://www.timberglingfoundation.org/). Make Music Matter! also collaborates with a variety of other stakeholders representing the music industry, social planning, the education sector and the business world.
Signatur has supported Make Music Matter! since 2021 and forms part of the network's steering group, but the foundation directs its financial support to specific project activities.
EVENTS AND OUTREACH ACTIVITIES IN 2023
Thanks to a new donation from Signatur, in 2023, Make Music Matter! can build on the lessons learnt from new outreach activities that were initiated in the summer of 2022, when Make Music Matter! created well-received programmes for the events Järvaveckan in Stockholm and Frihamnsdagarna in Gothenburg. The event programme was further developed during the winter 2022-23 with Stockholm-based activities at the cultural centre Blå Huset in Tensta and the Pre-Event Festival in the concert venue Annexet.
The purpose of activities created by Make Music Matter! for such events is to offer young people the opportunity to try out music-making, to play with music as a tool for expression and communication, and to provide inspiration for meaningful leisure time activities and future professional opportunities. Participating children and young people learn how to create music through collaborative methods. They also get the opportunity to perform their own music in front of others.
During spring and summer 2023, Make Music Matter! will use the grant from Signatur in order to participate in Järvaveckan in Stockholm (31 May-3 June): https://jarvaveckan.se/ and at Gothenburg's 400th Anniversary Celebration (2-5 June): https://goteborg2023.com/event/make-music-matter/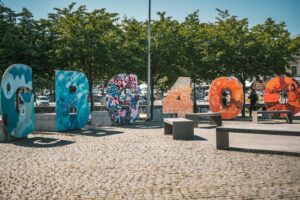 Millenniumplatsen in Gothenburg. Photo: Happy Visuals/Göteborg & co.
Read more about current and past activities in Make Music Matter! – including the many school projects – on their own website https://makemusicmatter.se/