BABIES ENJOY CLASSICAL MUSIC
Babies enjoying quality music, here at a recording with the Swedish Chamber Orchestra for babies and parents. Photographer: Daniel Wilcox
Swedish Chamber Orchestra
The Swedish Chamber Orchestra in Örebro has been conducting a much-appreciated baby activity since 2016. The activity offers rhythm sessions and baby concerts with the Swedish Chamber Orchestra together with Maria Brengesjö, development leader for children and young people, and the work continues. Thanks to the generous support from Signatur Foundation Sweden, the Foundation Di Piu now has the opportunity to implement the project entitled "A recording with the Swedish Chamber Orchestra for babies and parents".
The recording evolves the business by inspiring musicians in their own environment and contributes to the Swedish Chamber Orchestra's music becoming more widespread. It also makes music easily accessible to the target group, fills a demand and offers the opportunity to expand the repertoire through new orchestral arrangements for the Swedish Chamber Orchestra. It also offers further training for the Family Centers' educators, build relationships between the Swedish Chamber Orchestra and the families who visit the Family Centers and thereby reach a new audience.
Since the start in 2016, the Swedish Chamber Orchestra's aims for baby activities have been:
to inspire children and parents to spend time immersed in music and experience its power


to provide knowledge of music as a language and the positives of communicating with each other

to contribute through music to the connection between child and parent

to create conditions for a lifelong relationship with the Swedish Chamber Orchestra and its music repertoire

for Örebro Concert Hall to be considered as an obvious venue for qualitative and inspirational music experiences
Feel free to read more about the project on Örebro Concert Hall's website.
GRAMMY-NOMINATED MUSIC FOR BABIES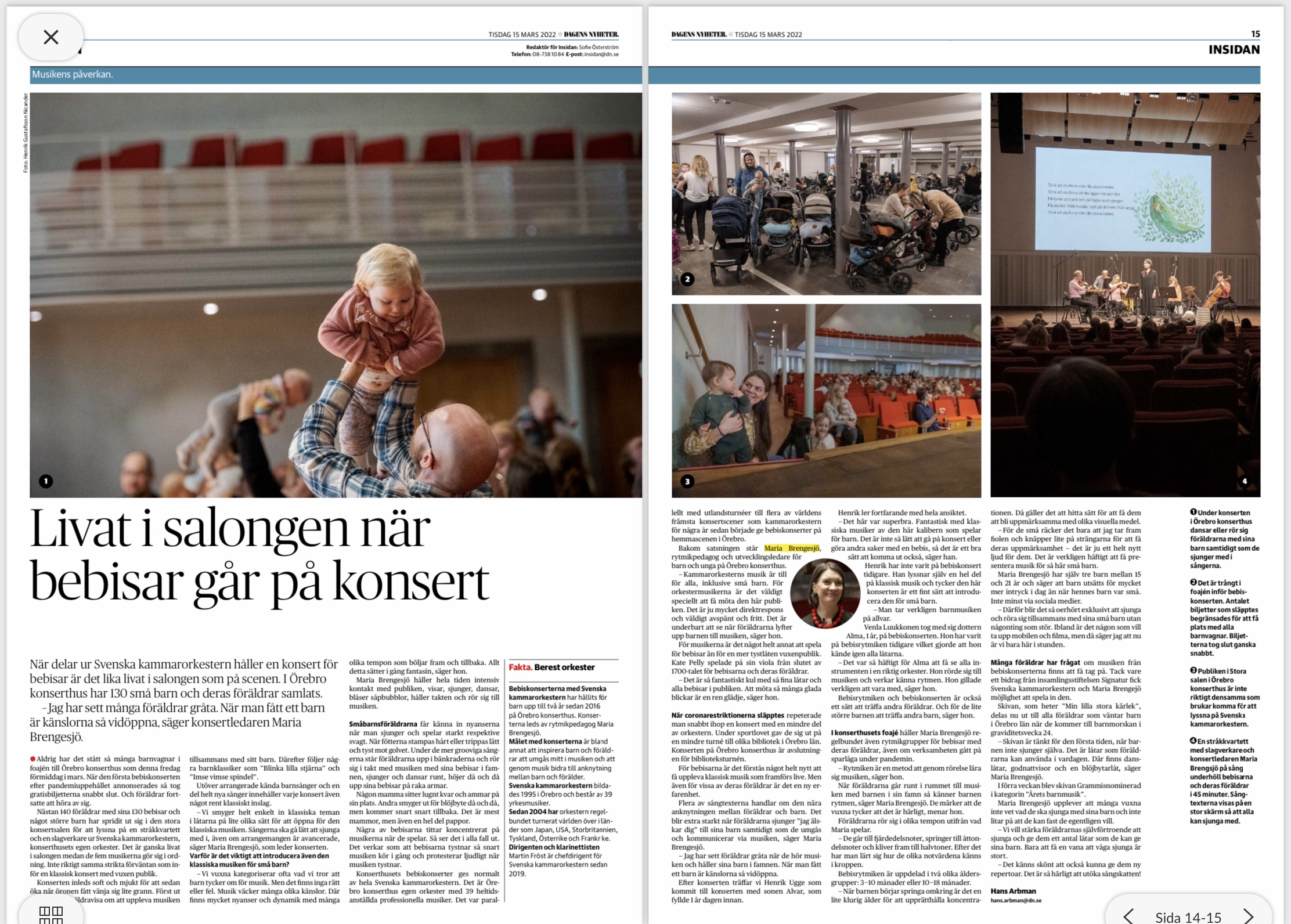 The music from the Swedish Chamber Orchestra's concerts for babies has become a Grammy-nominated album in the "Children's Music of the Year" category and the Swedish newspaper Dagens Nyheter has published an important article on this subject.